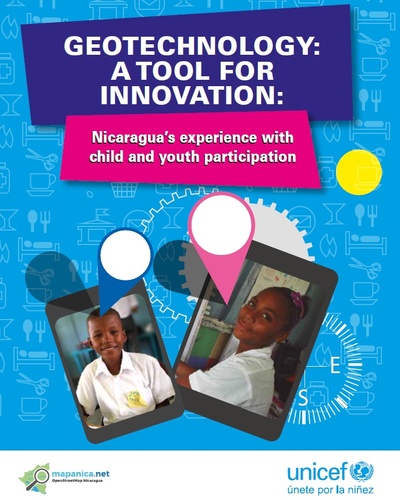 ]) Over the last couple of years several individuals of the Nicaraguan OpenStreetMap community MapaNica.net collaborated fruitfully in various occasions with UNICEF Nicaragua to experiment with participatory geotechnologies and children and adolescents on the Caribbean coast of the country.
This is the publication note by UNICEF Nicaragua (freely translated into English):
The approach of UNICEF Nicaragua with MapaNica.net emerged after the presentation of Felix Delattre, a member of the MapaNica.net community at the TEDxManagua conference in 2013. UNICEF Nicaragua became interested in the initiatives of the community and began to define joint efforts to be carried out: community mapping activities so that people, especially girls, boys, adolescents and young people, are empowered by participatory technologies in the most vulnerable areas of the country. The purpose was to identify specific problems to fight for the protection of children and adolescents. This publication is the systematization of the processes carried out in this respect.

With the advancement of new media and global networks, transformations in knowledge management are evident by which more people have wide access to information, data and code (computer languages). However, so far, both the computer languages ​​and the technologies are mostly dominated by a priviledged minority, and they generally don't apply it for social purposes.

One of the biggest challenges is to achieve active participation in digital media of the entire population, including girls, boys, adolescents, and young people to make information, data and code accessible. In addition, these initiatives support them to achieve the skills of the XXI century for a future employment, exchange knowledge and, ultimately, create alliances and participate in the solutions to problems that affect the rights of children and adolescents in the digital era.
The publication can be downloaded: