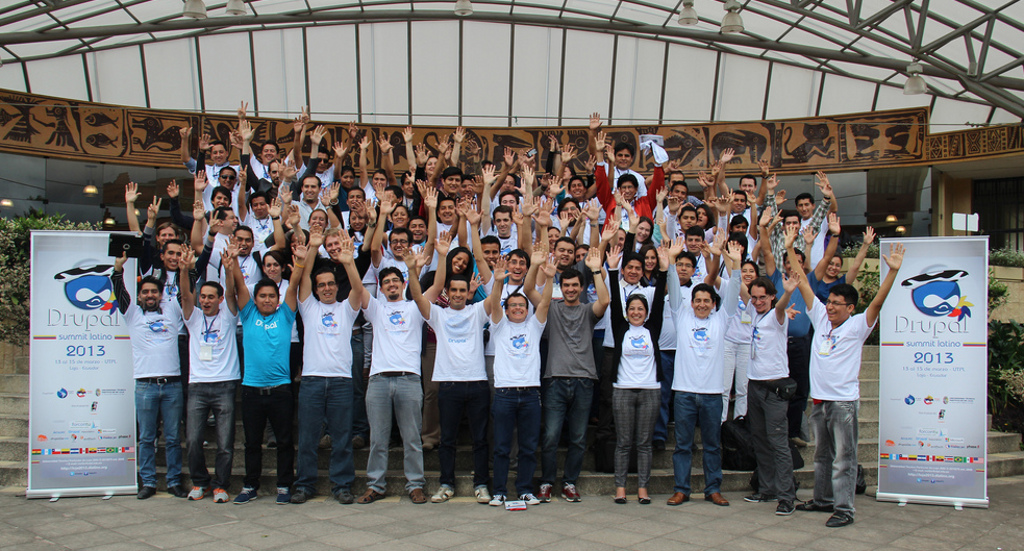 From 13th to 15th of March 2013 the third Drupal Summit Latino 2013 has taken place in Loja, Ecuador, after the first in Lima, Peru and the second in Guadalajara, Mexico. Once again the Drupal community from all Latin America gathered at one locality to share knowledge, rock Drupal at a new place, getting to know each other (better), plan future activities and enjoy good company. The event was held at the local university Universidad Tecnica Particular de Loja, which provided a good service, meeting rooms for BoFs and speakers as well talkrooms for a total of five tracks on the same time.
The local participation was good for an event in a small (and very nice) city. More or less 150 local people came to see the talks and learn about Drupal. Around 30 international Drupaler@s from all Latin America and the United Stated of America and France visited Ecuador for this event. For me it was remarkable to see a very high percentage of women participating in the Drupal Summit (According to the organizers: 26.32%). This is an indicator for a healthy growth of the Latin community.
On the sessions side my personal highlight was the "Building Drupal sites with the semantic web modules" by the special guest and keynote speaker Stéphane Corlosquet about RDFa and surprise: WebID. Afterwards I had a very interesting conversation with Stéphane (who by the way is a very nice person) about WebID, OpenID and single-sign-on solutions, which were very enriching reflections about end-users using these authentication technologies, security in this process and implementations of single-sign-on solutions as I am doing actively based on OpenID for Drupal.
A little bit sad for me, was to see that all international and national speakers, we were very busy to fill all the 54 talks and 16 workshops proposed by the event. It was nice to share the knowledge with all the newbies, but I would rather preferred to leave a bit more time for the speakers so we could have exchanged more on a higher level, doing code sprints, learning from all the good Drupal talent which is available in Latin America by now. I proposed the one and only BoF session of the whole event, which was aimed to get involved more people in the organization of Drupal Picchu (see the minutes of the meeting). At least this had very good participation and a lot of spirit to getting things started to have a great and big Drupal event next year in Latin America.
Thanks to erdfisch, who made this trip possible for me by sponsoring the event and special thanks to the organizers (Darwin Betancourt C., Marlon Maldonado, Fernando P. Garcia, Nancy Contreras) and all the volunteers, who all did an excellent job!
Last but not least: The Drupal Harlem Shake by the speakers of the Drupal Summit Latino