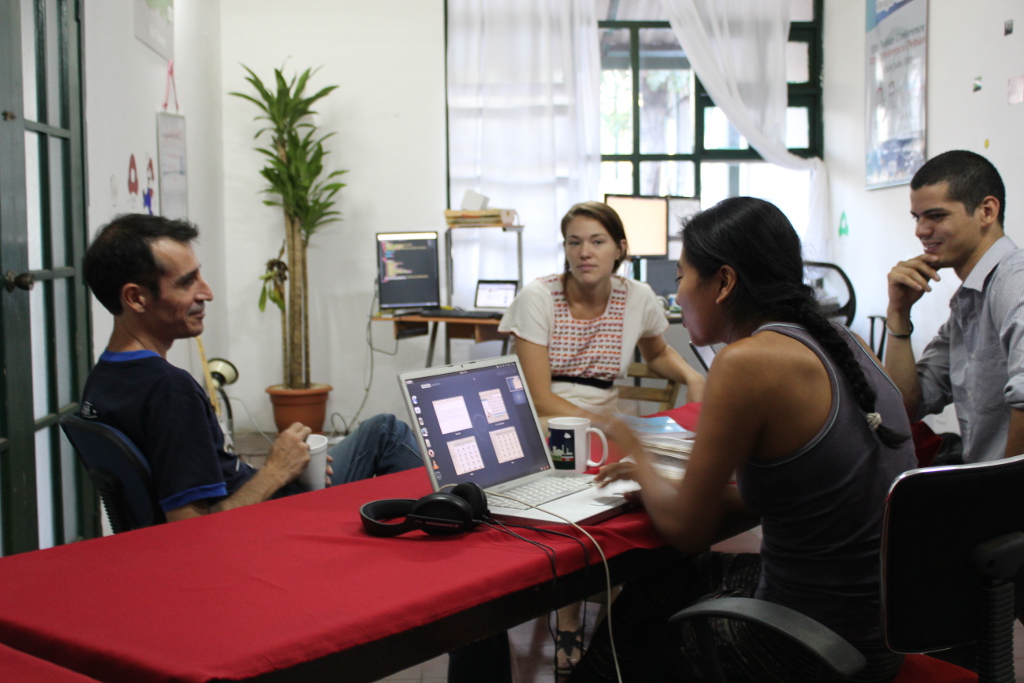 Inspired by other co-working offices I could experience all over the world and being tired of working alone at home, together with Leandro Gomez we took the initiative to open a real creative space in Nicaragua and this way co-labora was born. Looking for a physical place we allied us to the Cultural Center Quilombo, with which we share the same spirit and philosophy.
What does a co-working space mean? It is a place for freelancers, start-ups and innovators to have a physical space to work – an office to rent with the conditions professionals need. Like good internet connection, coffee, meeting rooms and a chill out area. Further it is based on the idea of responsible consumption: Share infrastructure, technical devices (like for example printer) and resources and living this way a more sustainable way of life. And of course it is just even cheaper. But the main benefit for everybody participating is just the exchange of knowledge and getting inspired by working at the same place as other professionals, even though and especially when they are working in other disciplines. Working at home usually let people stay at the level where they are, but working in a creative hub, such as a co-working space is, lets people always be on the top of actual development and keep on learning all the time.
In northern countries freelancers are already something normal, and I consider this as a worthy model of working. But in developing countries, where usually big companies exploit the labor force of the people with bad salaries, not letting people grow professionally, the freelance model is still something really new. So offering an innovative space for people who want to take their own responsibility offering excellent work, is a great opportunity for everybody to learn about this way of working, learning about how to start-up, how to treat with clients, how to charge, how to use the right contracts, etc. All this can be achieved by the simple fact of sharing a physical space with others.
Visit us in co-labora!